April 20, 2011
Tangled Up In Dylan (Or, My Favorite Song Of All Time)
<em><strong>"We always did feel the same, we just saw it from a different point of view..." - Bob Dylan</strong></em>
About a year ago, an old friend from high school tagged me on Facebook and asked me what was my favorite song of all time? For a certified lunatic for music such as myself, one might think this kind of question would be impossible to answer. Apparently, my friend had second thoughts about such a possibility as well, because before I could undertake to frame an answer, I received a second message from her apologizing for posing such an impossible question and further explaining the real reason for her inquiry, which was to get some new music suggestions that she might be able to share with her son.
Even though she had let me off the hook from having to choose a favorite song of all-time, my fevered little mind was already chasing down an answer like a Google bot. As a songwriter, musician and unrepentant music junkie, I wanted to know the answer to that question myself. What is my favorite song of all time?
My earliest music memories date back to Elvis, Sinatra, Hank and Ricky Nelson. By the time I saw Help! at the age of six in a standing room only Nashville movie theater, I was officially hooked. I have been consuming music ever since, from a wide swath of genres and times. Some might even consider my relentless consumption of music to be an obsession to which I can only plead, "Guilty!"
Classical. Country. Blues. Jazz. Soul. Reggae. World Beat. Fusion. Prog Rock. Americana. Folk. I've sampled all of these and more, some more liberally than others. My iTunes library presently counts over 27,000 songs in its database, which isn't even close to the amount of music I own or have experienced in my life. The good news is there weren't 27,000 songs vying for the title of my favorite song of all time. Certainly, the vast majority of songs could not be seriously considered as contenders. While I enjoy Nilsson's "Coconut" or The Kinks' "Apeman" as well as the next guy, they weren't really in contention. Still, there were a good number vying for consideration. I knew that if I was going to arrive at an answer, which I was determined to do, I would have to bring some order to the investigation.
So, I set up my first parameter. Instead of thinking about specific songs, I began thinking about my favorite songwriters of all time, and while names like Lennon-McCartney, Leonard Cohen, Bruce Cockburn, Neil Young, Pete Townshend, Ray Davies, Rodney Crowell, Joni Mitchell and dozens of others are worthy company, when I ask myself who is favorite songwriter of all time, the answer is easy, clear and unequivocal…Bob Dylan is my favorite songwriter of all time!
Tangled Up In Dylan
It wasn't always that way. I first started listening to Dylan as a boy because, well, I felt I was just supposed to listen to Dylan. I didn't get it at first, and of course, the "voice" is certainly an acquired taste for many. I will admit that I was attracted to singers with a better facility, meaning more pleasant or interesting to my developing adolescent ear, which was still about three decades away from learning to love Leonard Cohen's voice. Nonetheless, I was familiar with many of Dylan's key songs by the time of the arrival of Blood On The Tracks in January 1975 and my respect had been growing.
Before long, tracks from the new Dylan record were being transmitted from the towers of KWIC-FM radio in Beaumont, Texas and making their way through the ether into my bedroom at night. "You're Gonna Make Me Lonesome When You Go," "Buckets of Rain," "Shelter From The Storm" and "Simple Twist Of Fate," they all seemed to have been in late night rotation, but it was the first song on the record that really lit me up.
Rerecorded shortly before the release of Blood On The Tracks, "Tangled Up In Blue" is the song that made me a Bob Dylan fan for life. As a 16-year old, I didn't yet understand all what was going on in the song, but I knew from the get go the song itself was a masterpiece. Seven verses. No chorus. No Bridge. Only the refrain of the song's title "…tangled up in blue" as a tag to complete the end of a verse stanza and to serve as a hook line.
Clocking in at 5:42, the song plays like a movie of star crossed lovers involved in and bonded by some kind of nebulous nefarious activities that conspire to separate them over time and throughout their lives. Their youthful idealism crushed by the brutal realities of getting by in a world full of seedy characters and unlawful deeds. And, the wordplay and the rhyme schemes are to my mind the summit of songwriting. I still study their efficiency and marvel at the discipline of the structure of the song. I don't know who these people are, but I'm curious as to their fates and I want to know if they made it through okay.
Dylan By The Numbers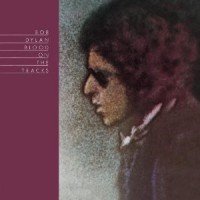 The song defied the formula for Top 40 radio. Yet, it somehow broke through and actually rose to #31 on the Billboard Hot 100. Later, Rolling Stone magazine ranked Tangled Up In Blue as the #68 song on its list of the 500 Greatest Songs Of All Time and the album, Blood On The Tracks nailed down the #31 spot on the list of the 500 Greatest Albums Of All Time. While The Beatles hold down the #1 spot on the greatest albums list with Sgt. Pepper's Lonely Hearts Club Band, another of Dylan's iconoclastic songs, "Like A Rolling Stone," sits atop the greatest songs of all time list.
If "Like A Rolling Stone," which clocks in at a hefty 6:09 in the single edit, hadn't already shattered the 3:00 glass ceiling for Top 40 formats in 1965, "Tangled Up In Blue" and a host of other long format songs may have never found a place in the Top 40 and music history would be a lot less interesting. For it's part, "Like A Rolling Stone" muscled up the charts despite it length and reached #2. Perhaps a bit ironically for me personally, it was kept out of the #1 position by The Beatles' "Help," which is kind of where my own personal rock and roll odyssey officially began, notwithstanding my earlier affinity for Ricky Nelson and Elvis.
"Like A Rolling Stone" deserves its lofty perch at the top of the list of greatest songs of all time. It also defied convention, broke down barriers, smashed perceptions and generally went on to become one of the most influential songs of all time from arguably the most influential songwriter of the 20th century. However, for me, "Tangled Up In Blue" is my favorite Dylan song, and since Dylan is my favorite songwriter, "Tangled Up In Blue" is my personal favorite song of all time.
This article dedicated to Melanie Henderson Priesmeyer for asking me to name my favorite song.